Movement Therapy/Pilates – Eastbourne
I started something new for me this week.  I started being a class instructor for Movement Therapy classes. One of my classes is a chair-assisted Pilates type class being held at Community Wise, Ocklynge Road in Old Town, Eastbourne http://www.communitywise.org.uk/.  Come along at 1.30pm on Tuesdays to see what it's all about.  A pre-class health check is required for participants (I have to check you can join in safely).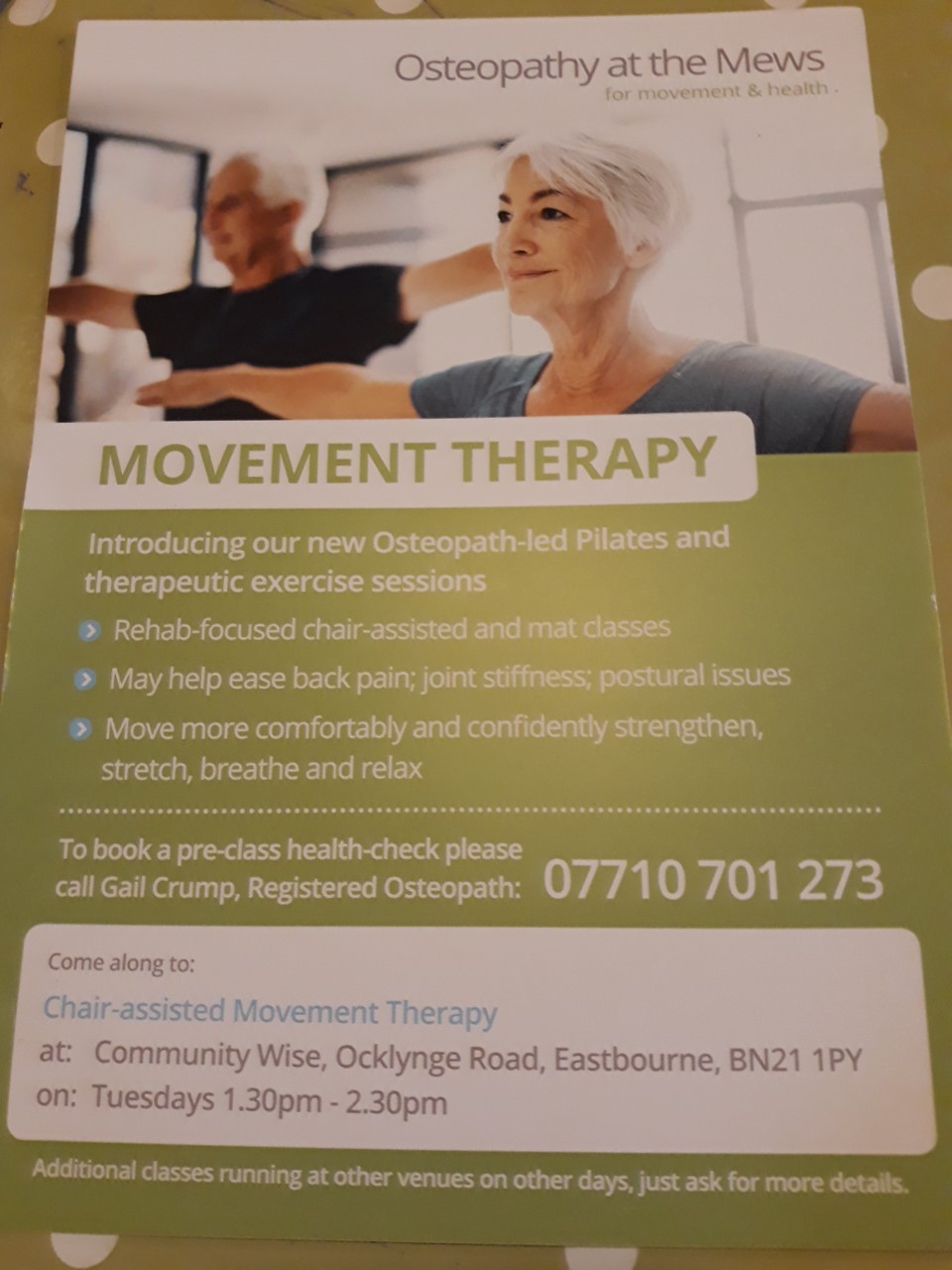 So why am I doing this?
I have been working as an osteopath for 14 years and I love my job.  I love meeting all sorts of people – some are truly amazing and inspirational; I love helping people understand their bodies; and I love helping people get better; and I really love giving people movement, exercises and advice they can use themselves.
Over the years I have given out endless 'homework' to patients who, on the whole, proceed with gusto.  Then, as they start to get better, they forget about their body and the advice given. This is quite understandable. Also, people can feel guilty about spending a little time on self-care at home when there are domestic responsibilities looking them in the face.  Classes are a lovely way to focus on yourself – which is very good for both the body and the mind.
As a practitioner it is great to see people weekly, to check in on how the exercises are going, but this doesn't always need a full clinical consultation. So I thought I should cut your costs, get some of you together as it's more fun that way and do a group movement class, based on pilates. Doing a chair-assisted class means that dizziness form lying flat on the floor or the challenges of getting off the floor are avoided.
What does it involve?
At the Tuesday class you are seated in the lovely upstairs Community Wise hall with that fabulous view over the Downs.  There is a lift to get you safely up and down if stairs are troublesome for you.
The seated class concentrates on a gentle movement warm-up to mobilise the neck, shoulders, upper and lower limb and the lower back and pelvis.  Then there are some stronger exercises to work your muscles to keep you strong. Some of these can be performed standing if that is OK for you.  There is then a little balance work, and a cool-down stretch. There is allocated time for questions and answers.
The class is suitable post-injury, if you suffer with osteo-arthritis or problems with the joints. My years of clinical work and the knowledge it has given me will help us work together to benefit you.
For further information please contact me:
Gail Crump
Osteopathy at the Mews
Tel: 07710 701 273